M/s. SURYA CONSTRUCTIONS was established in the year 1987, with a dedication and motivation to strengthen our goal to involve in the constructional activities in all fields of Civil Engineering Projects inside and outside Kerala. The company is one of the registered A Class contractors of Kerala Water Authority since 1987 and Kerala PWD since 1989.The company is a qualified Civil Contractor in BPCL-KRL since 2007. The Company is pre-qualified in many other Government and quasi-Government institutions to take up Multi-stored Buildings, Site Grading Works, Piling, Irrigation projects, Earth Works, Roads and Bridges, Structural steel Works etc.
   We have been enlisted in the list of approved contractors of Southern Railway for execution of all type of civil engineering works. We have also been included in the list of contractors for Civil and Structural Works for BPCL-Kochi Refinery. The company has definite plans to participate in construction boom that is expected in India's infrastructure sector and Refinery expansion projects, highways and irrigation projects, in the next few years.
  Ever since its inception, the company got encouragement from both private and public sector and has completed a number of major projects in all over South India. Due to the hard work, Quality control and dedication of our team, we have brought up our image and confidence among all of our Clients. The company has its Head office Located at  4th Floor, Malayil Majesty, Near Railway Over Bridge, Refinery Road, Tripunithura, Ernakulam, Kerala 682301, India.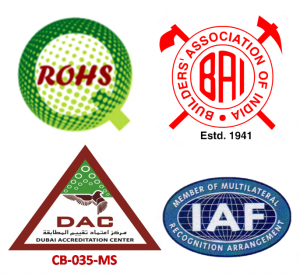 We use the banking system to maintain financial accuracy and streamline transactions. As an engineering contract company our official banking partner is South Indian Bank Limited. We are always committed to being loyal to our clients.